Summer wedding in Nordre Skøyen Hovedgård, Oslo
So when you ask me what you can get with 6 hours wedding package, this is a sneak peak of it. With good planning I am able to capture the most important parts of your wedding day so let's go 👉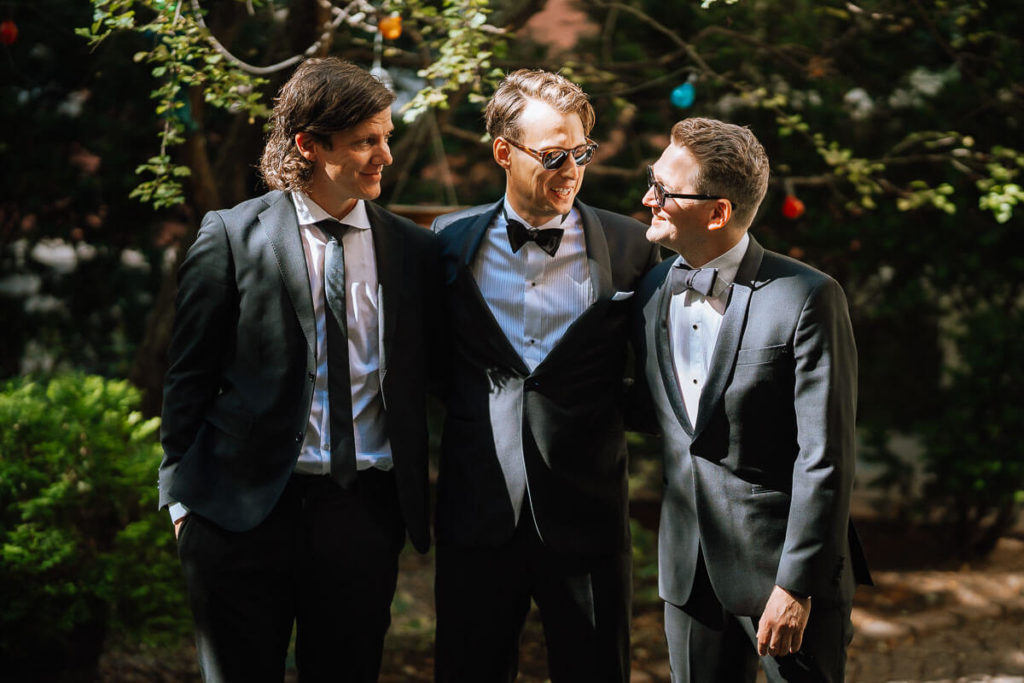 Getting ready
My day started with a quick stop at Grooms for max 15 minutes. Some images of him getting ready, some detail shots, and we were all off to the ceremony location Nordre Skøyen Hovedgård where the bride has already waited for us.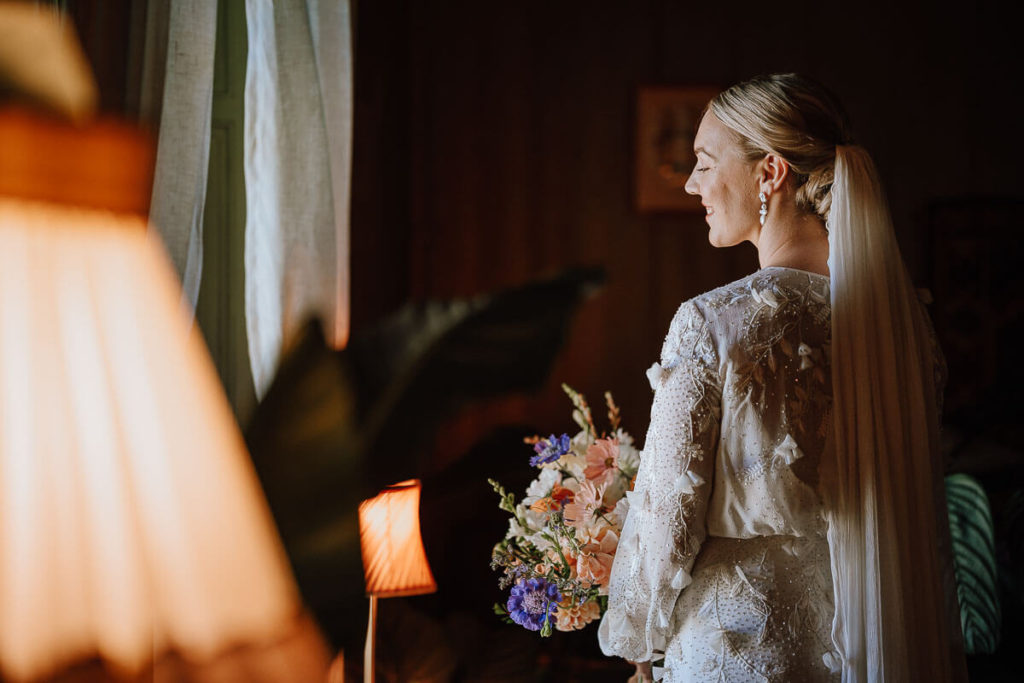 This is for the photographers – On the second floor, there was a big room with yellow-casting light bulbs & very little sunlight. But as a wedding photographer, you just have to go with the flow and work with what you get. I turned the lights off, pulled the curtains, and worked my magic in that window light.
Cemeny at Nordre Skøyen Hovedgård
And the ceremony begins. Just outside Nordre Skøyen Hovedgård is a marvelous ally of old Linden trees. They gave the perfect shade and background for a hot summer wedding. It stretches out from the building to both sides and also was the perfect spot for an outdoor ceremony.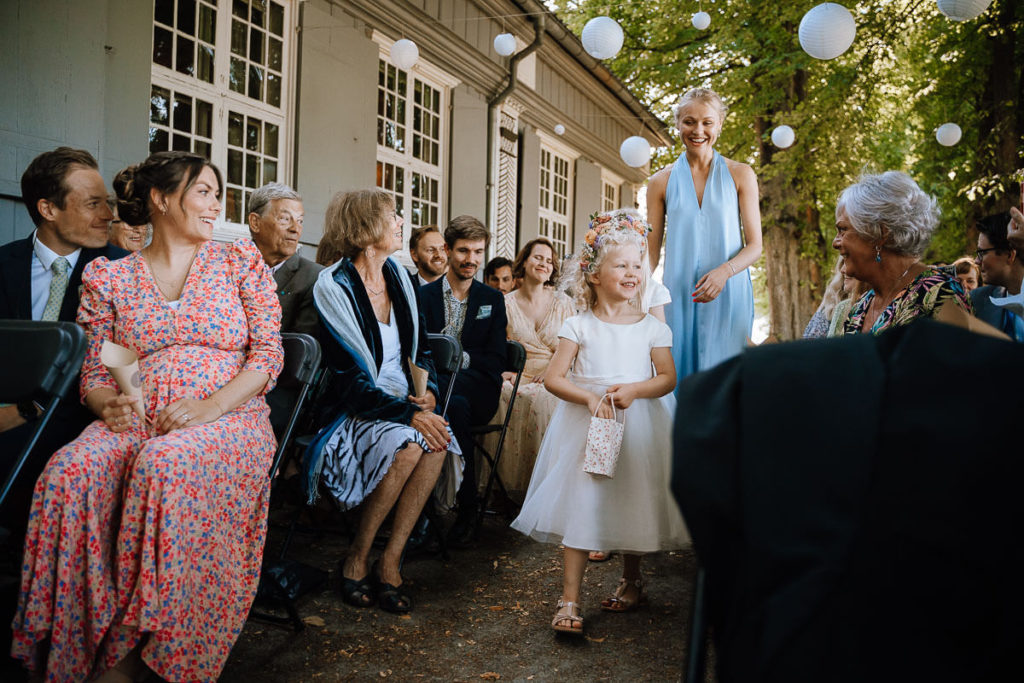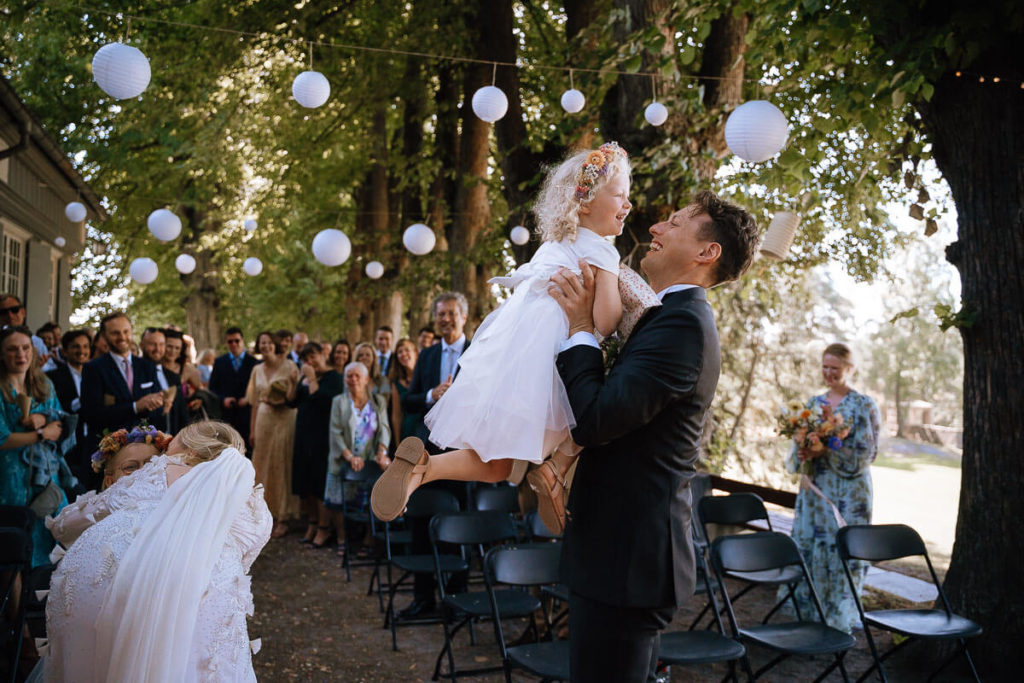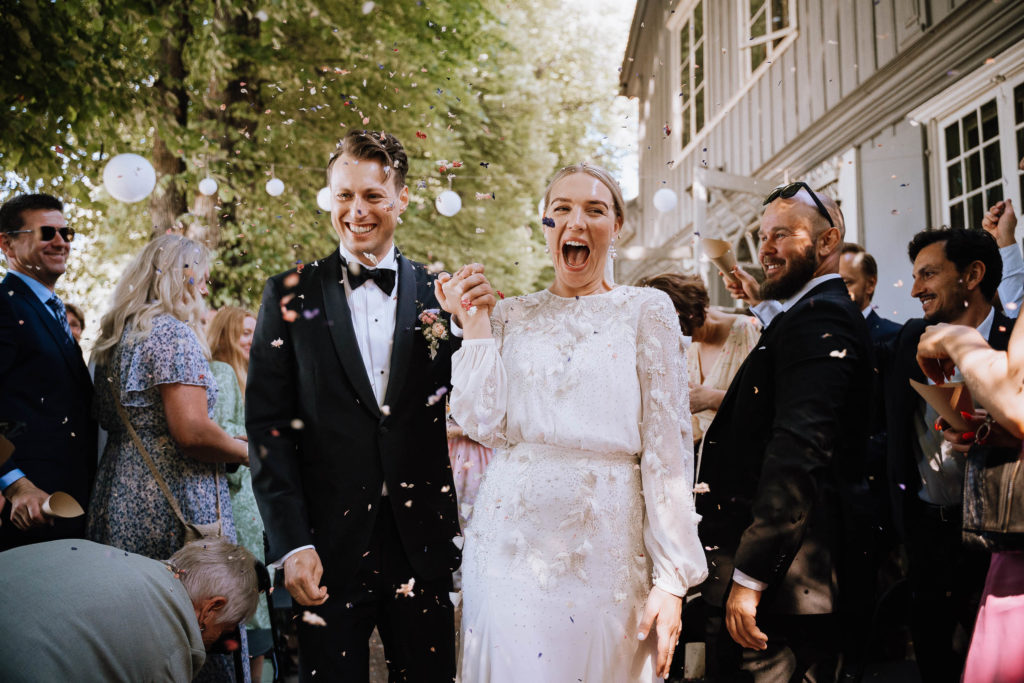 Group & Bridal portraits at Bogstad gård, Oslo
If you haven't noticed, a group photo of everyone laughing is my thing. Yes yes, I also have a very nice one of everyone smiling at the camera, but this is what you should expect when inviting me to be your wedding photographer.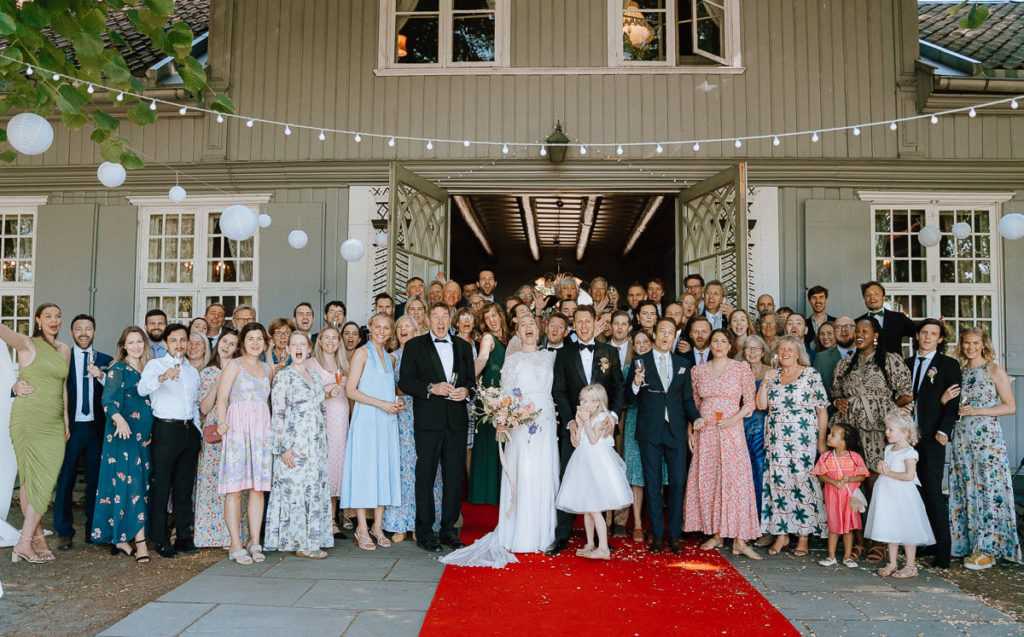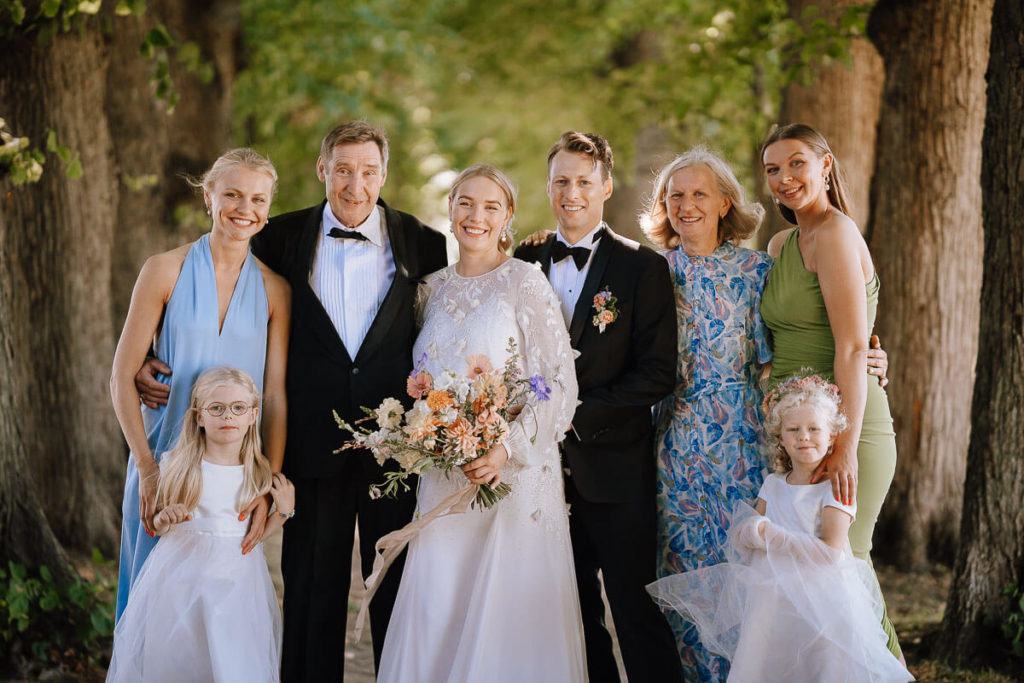 Nordre Skøyen Hovedgård has more space for portraits than you can wish for. And when it comes to portraits, I encourage every couple to be as playful and affectionate as they are comfortable. But one thing that helps is to have time where it's just you two and the photographer. I love to capture that chemistry you two share, and that mostly blossoms when you two have a minute to yourselves.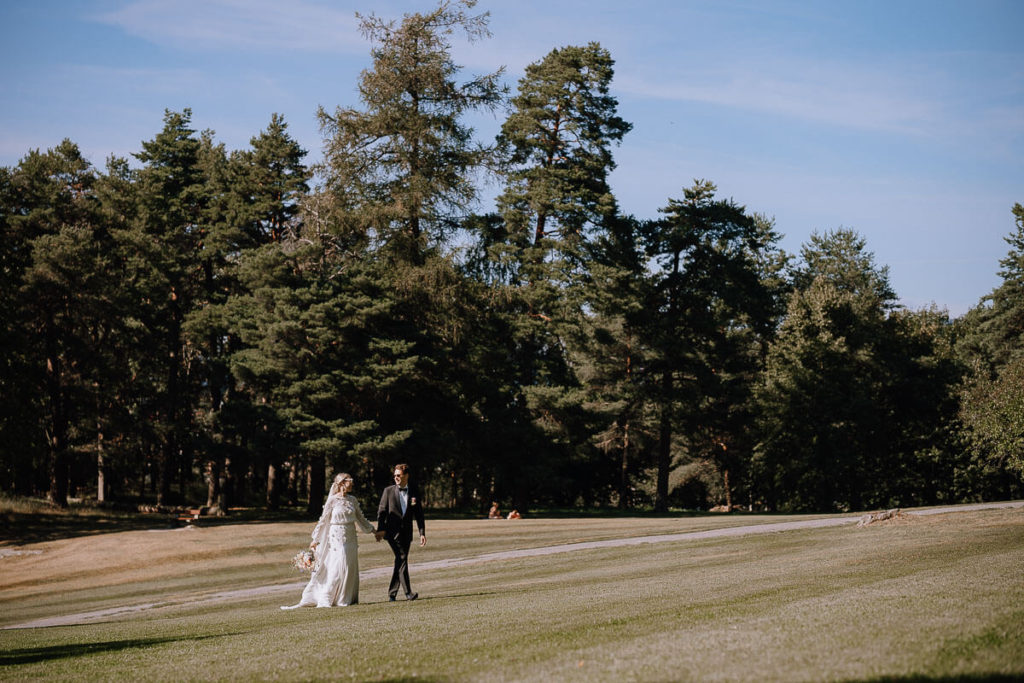 Remember – in my blog posts I am showing only the highlights of a wedding. But they got over 400 images from theyr 6 hour day with me.

Inese Photo
Portraits took us only 30 min and Thale & Jørgen joined their family & friends for outdoor activities.
And to be honest short 10-15 sessions multiple times during your wedding day are my favorite way of organizing the portraits. Let me tell you why –
A new awesome trend is organized outdoor activities for the guests, which does really make the wedding more memorable without adding another huge expense. The gusts have something to occupy themselves with while the newlyweds are doing portraits.
Every couple can choose when I start the day and end the day with them. For this particular 6-hour coverage, the last hour was spent capturing the most important speeches.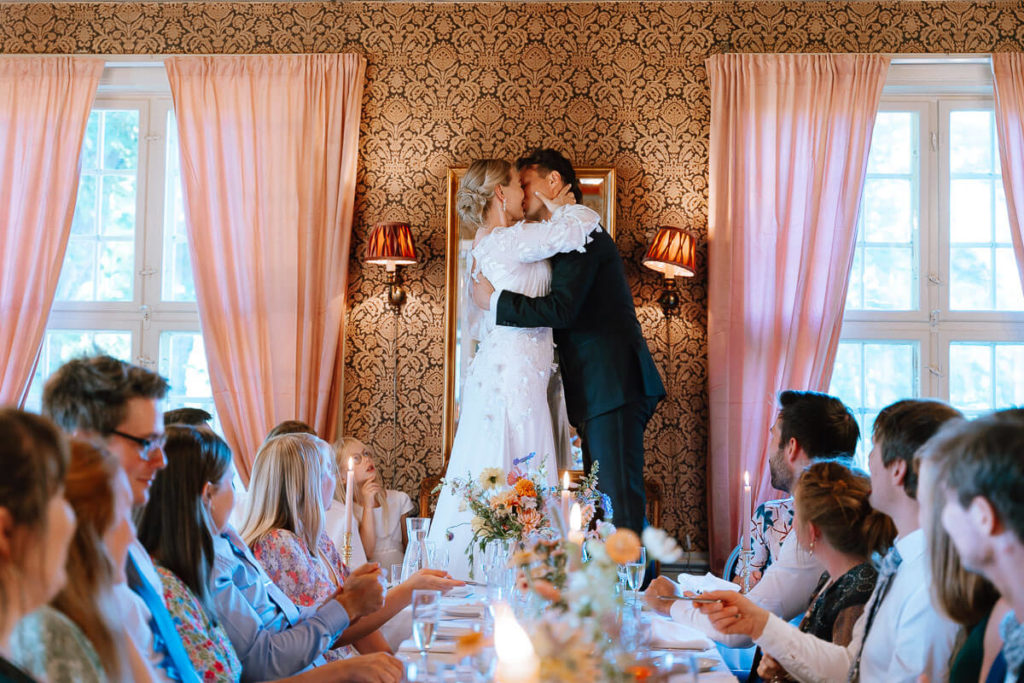 And my time was over. Lots of great tips to take from this wedding. But the best is that with great planning, 6 hours can beautifully tell your wedding story.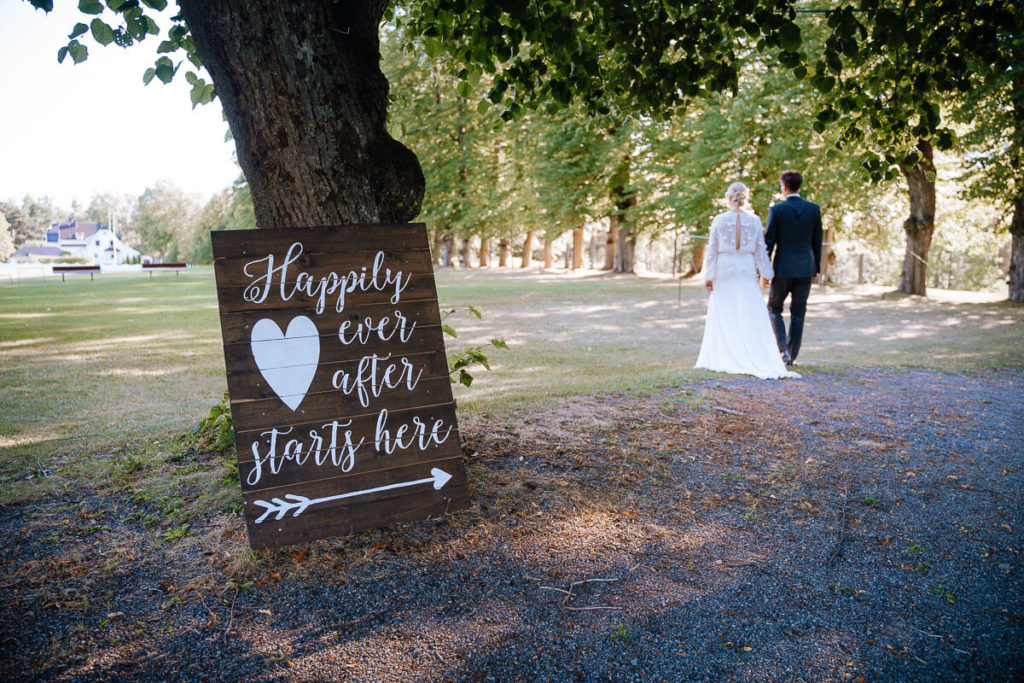 Overview of wedding vendors for this wedding in Bogstad gård, Oslo
Wedding Venue in Oslo – Nordre Skøyen Hovedgård
Wedding dress – Angelica gown from Bo & Luca, in Anwe Bridal
Bridal makeup & hair – Eli Favela (Marlou Stylingbar)
Grooms Suit Oscar Jacobsen from Follestad
Bridal Flowers & table decorations – Blomsterhagen.no
Earings – Maisonsabben.com from Whitebygreen.no
Wedding rings – Gullsmed Aas
Click here to see wedding packages and book your wedding photographer today.