Lighthouse Wedding in Risør – Det Lille Hotel & Stangholmen Fyr
Norway can be so divorced, but one thing we have plenty of is small fishing villages. This time I was invited to Risør – a charming fishing village in Southern Norway. I stayed there for 2 nights since I had a 12-hour wedding that day.
Getting ready at Det Lille Hotel, Risør
Risor is famous for its white-painted wooden houses. And Det Lille Hotel perfectly represented its history and charm. It's a cozy historical building, with unique apartments and suits in the heart of Risør.
I woke up by seagulls screaming like crazy at the sunrise. I picked up my coffee and headed to the town center where my bride&groom stayed the night.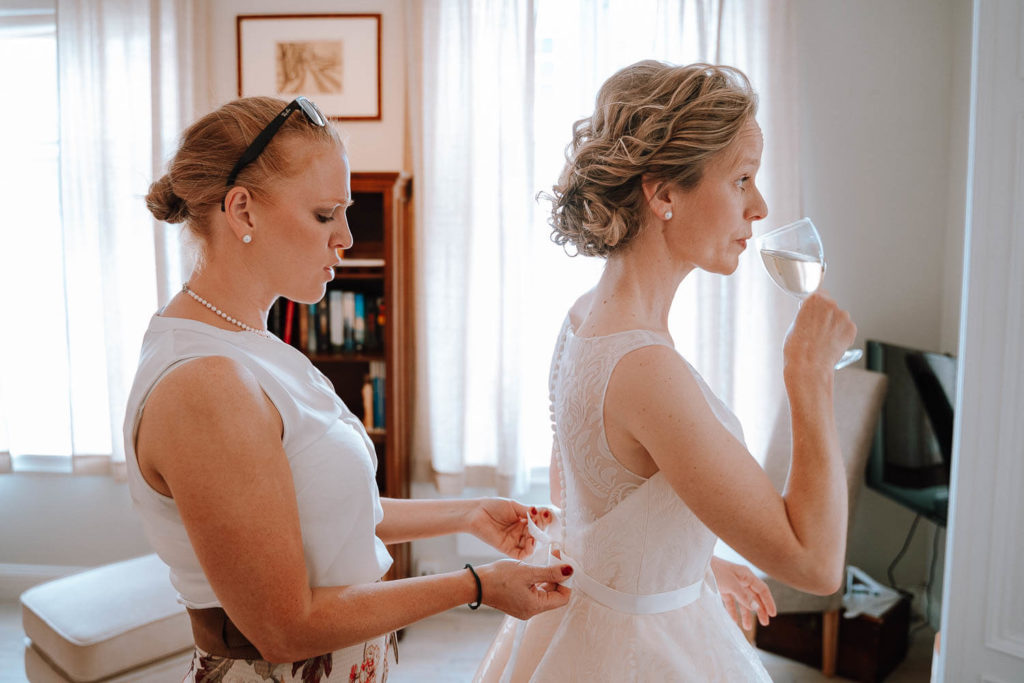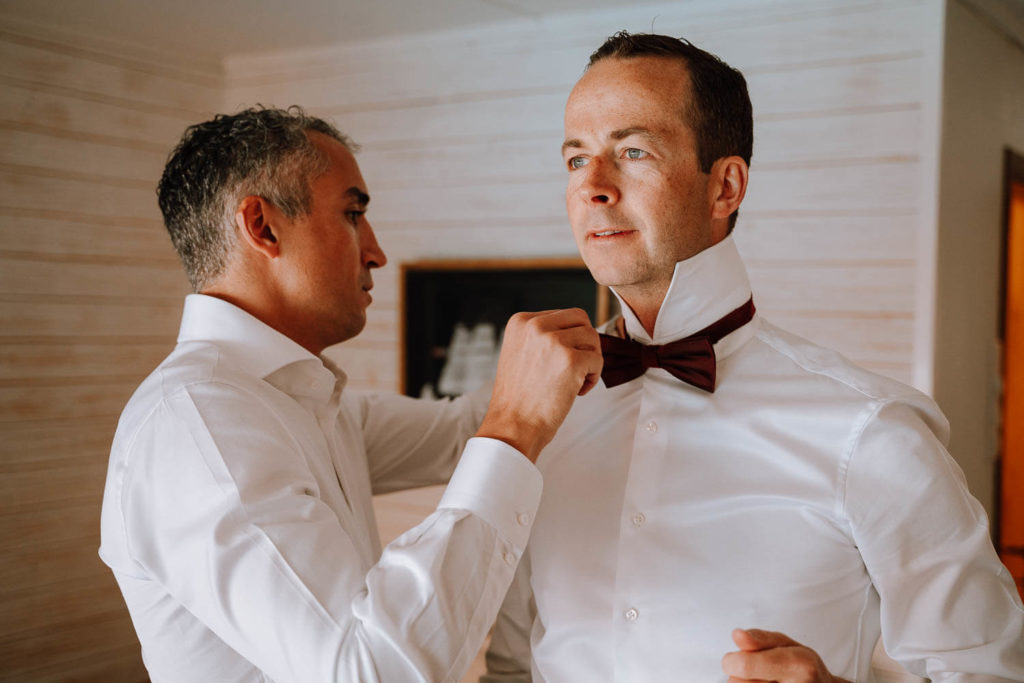 Marie & Dag Stian is actually a quite typical couple for me. They already have the carriers, a nice house, and 2 beautiful children. The big beautiful wedding was the only thing they never got around to doing until today.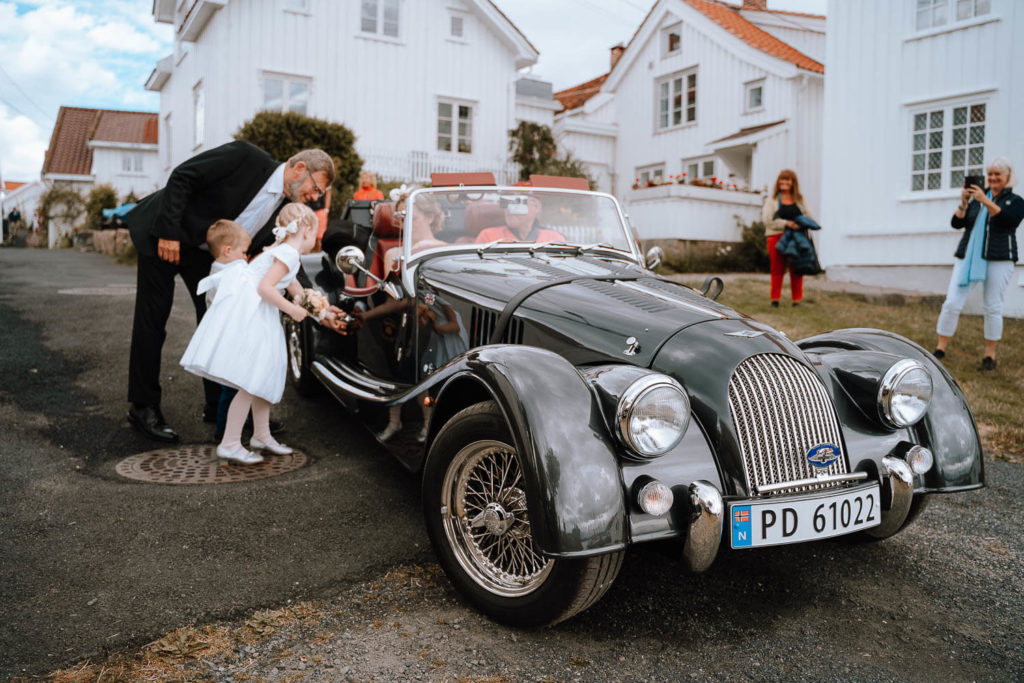 Wedding Ceremony at Kastellet, Risør
Their ceremony location was Kastellet, which is a public landmark, surrounded by the typical white wooden houses & overlooks the water.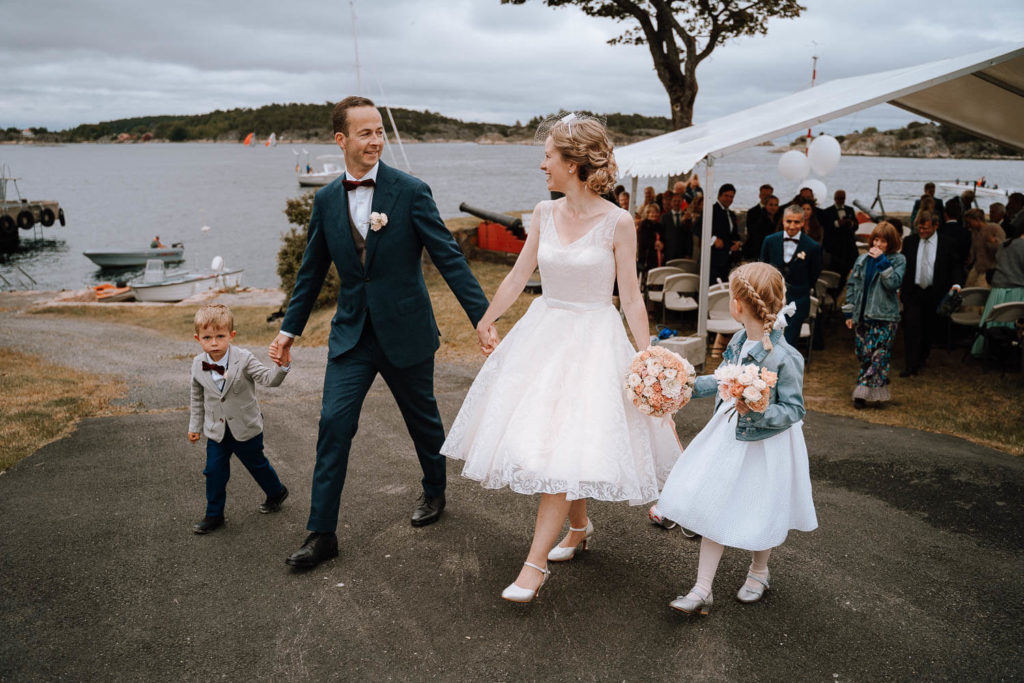 Boat ride with MS SØGNE to Stangholmen fyr
Right after the ceremony, Marie & Dag Stian took their 2 kids and the rest of their wedding party for a walk thru the narrow streets of Risør to head to the SØGNE – the boat that would take us all to Stangholmen fyr.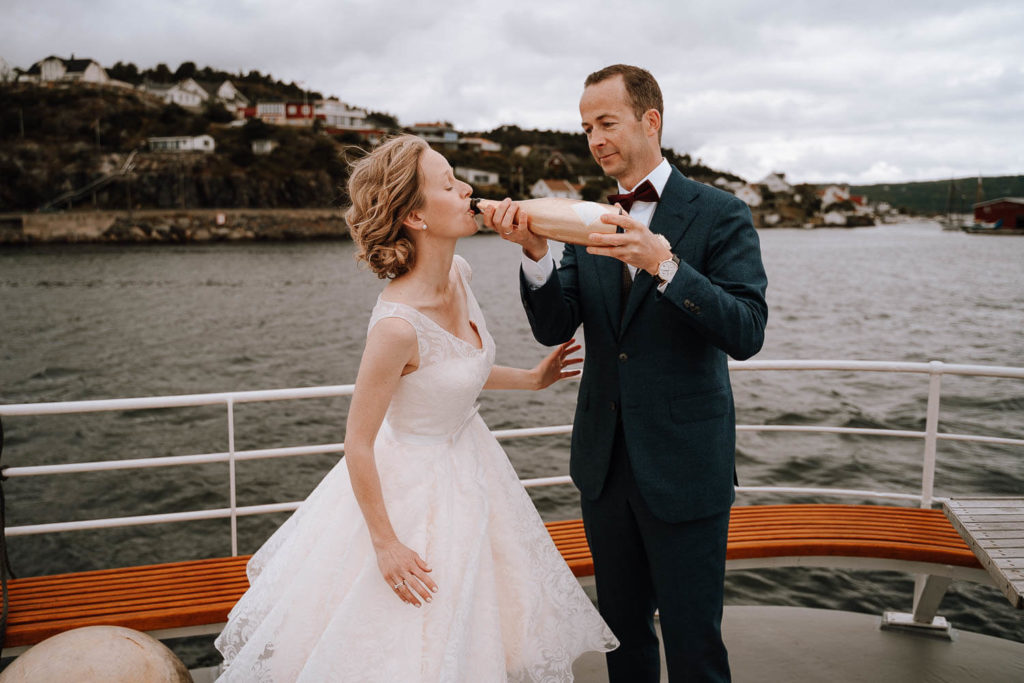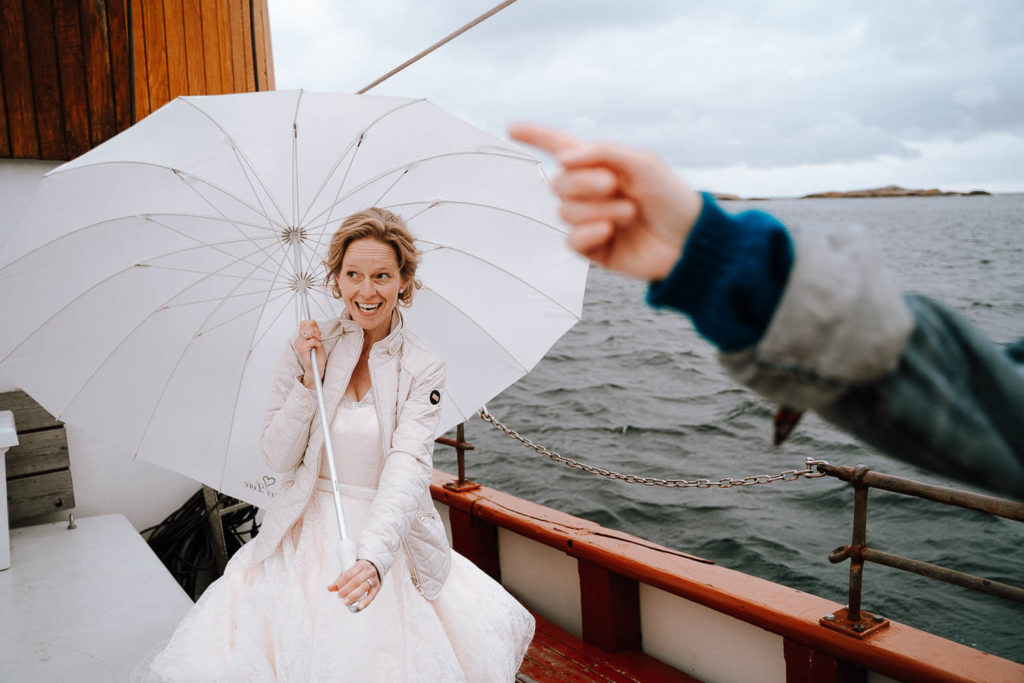 Wedding portraits at Stangholmen
While everyone was inside grabbing cocktails before dinner, I took my couple and their closest family for family portraits. Every single wedding I send out a questionnaire, asking if there is anything special about your wedding, that I need to photograph?!
This time the bride requested an heirloom image of all 4 generations of the women & I am still emotional about it.
And then I had to steal my couple for bridal portraits. Just so you know, the iland might have huge gots. They were friendly and all, but they are still animals with horns, and cousin is advised.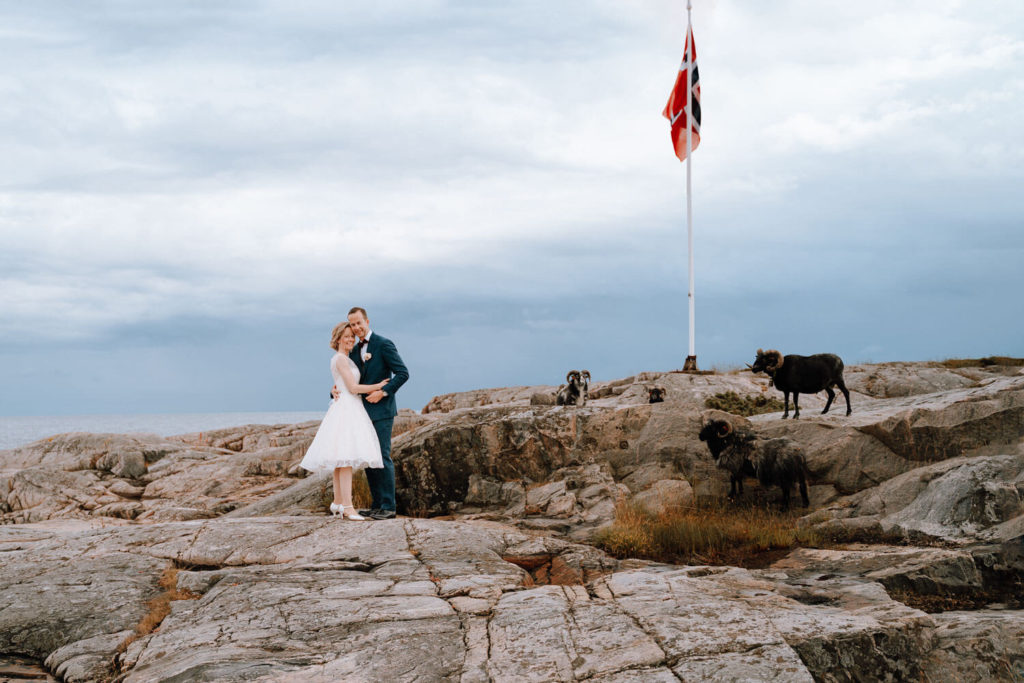 Wedding dinner at Stangholmen Fyr
Stangholmen Fyr is a Lighthouse on one of several islands belonging to Risør. On the island itself, we used 2 of the buildings. One for cocktails and the other for the wedding dinner. The lighthouse building was filled with historical artifacts. It had 3 small rooms, with low ceilings, but somehow it managed to fit nicely all of the 50 guests.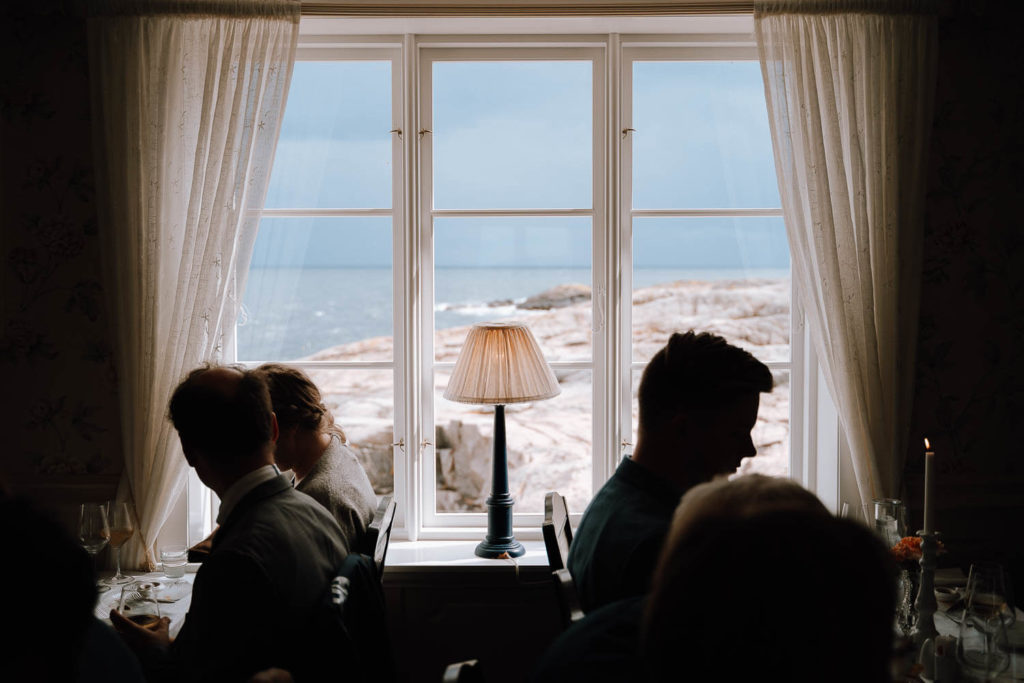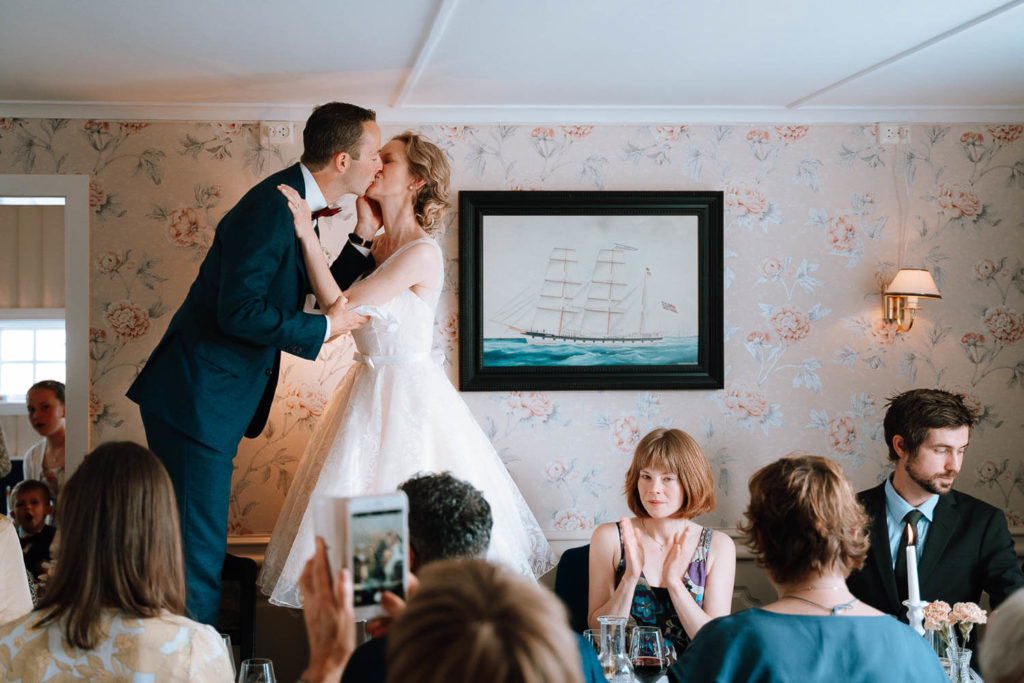 It was time to head back to the mainland. And I wish I could show more images from this day, but wedding blogs have to be short & sweet.
*If you care to see another Lighthouse wedding story but in Oslo, click here*
Buene is a venue beautiful, tall, wooden building from 1862, but sadly they have closed with no information about when and if they will be opening again. It was filled with art and we were so lucky to be there.
But my time was over, and I asked my couple to take a break from all the dancing and drinking, to enjoy the blue hour in Risor. It's a beautiful town, with photogenic streets, and just perfect for a summer wedding.
Overview of wedding vendors for this Lighthouse wedding in Risør, Agder
The hotel where bride & groom got ready – Det Lille hotel
Wedding Ceremony at Kastellet
Shampane on MS Søgne
Diner at Stangholmen
First dance at Buene Risor
Band – Swing'it Dixieband
*Click here to see wedding photography packages and to get to know more about who is Inese Photo*